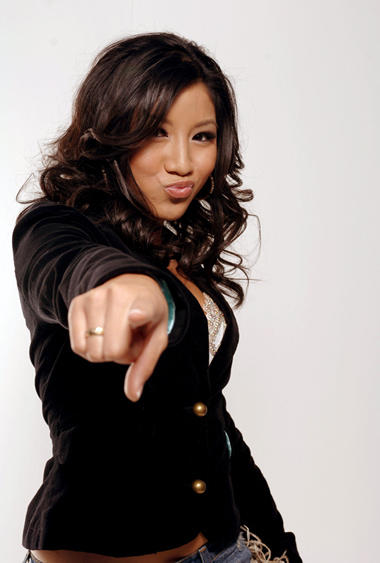 Entertainment
Filipinos can be seen all over the arts and entertainment world and the inclusion of Jasmine Trias and Camile Velasco in the 3rd season of American Idol introduced American viewers to Filipino American talent. Apl.de.ap of the Black Eyed Peas is another well-known Filipino American musician. Lalaine, a Filipino American, can be seen from Broadway musicals to the Disney Channel's Lizzie McGuire. She has also been a spokesperson for a Filipino channel, been hailed as a role-model by Philippine President Gloria Macapagal Arroyo, and has been a promoter for Philippine tourism.
Other famous Filipino Americans in the entertainment industry include Country music singer, Neal McCoy, of mixed Filipino heritage; pop singer Enrique Iglesias, his half-Filipina mother and Spanish-mestiza socialite Isabel Preysler, actress and occasional singer Tia Carrere, dance recording artist Jocelyn Enriquez; Vanessa Anne Hudgens of Disney's recent made-for-television movie High School Musical; and comedian SNL alumnus Rob Schneider, who has appeared in such films as The Hot Chick and The Benchwarmers. Nicole Scherzinger, lead-vocalist of the Pussycat Dolls and also an actress, is also a Filipino American. Chad Hugo from the rock band N.E.R.D is a Filipino American. Cassie, half Filipina, is the singer of the hit single "Me & U". Vincent Ramos, a Filipino American from Long Beach, CA and professionally known as DJ Glaze, is highly recognized in the Filipino Community as a rap/hip-hop music producer for the group Foesum. WWE Superstar Batista is Filipino American, has tattooed the Filipino flag, along with the Greek flag as well on his upper left arm. The list also includes the lead role of the motion picture the Crying Freeman and Iron Chef America host, Mark Dacascos.
Kirk Hammett of Metallica is of Filipino descent. Joey Santiago, the guitarist for the Pixies and The Martinis, was born in Manila, and spent his early childhood there. Dan Inosanto, Ernie Reyes Sr. and Ernie Reyes Jr. martial arts experts. Michael Copon of One Tree Hill is Fil-Am, also. The former Miss Teen USA Vanessa Minnillo's mom is Filipina. Famous Broadway actress Miss Saigon as Kim, Lea Salonga, Jose Llana,of the Flower Drum Song, Shannyn Sossamon of A Knight's Tale, not too famous but a Fil-Am actress. Also, actors Paolo Montalban and Lou Diamond Phillips. Jerome Fontamillas of the band Switchfoot plays guitar. The band popularized the song "Dare You To Move".